SEASON OF THE SAUCE
Sun Sauce Featured On The Ryan Seacrest Show
Houston, TX - Not all lotions are created equal. In fact, many so-called "skin care" products actually do very little to protect, restore or replenish the skin. So when a high quality product chock-full o' natural goodness shows up and actually delivers, people take notice.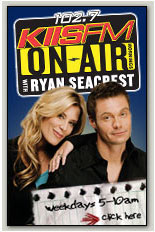 One such product is the latest brainchild of Dale Hansen, an innovative creator/blender of natural, high-quality skin care products. Dale's amazing new line up christened "Sun Sauce" is a wonderfully soothing, saturating and succulent line of moisturizers and bronzing skin soakers that have found there way into the hands… and onto the bodies and faces of Hollywood A-listers.
As Sun Sauce makes it's way through tinsel town, it has been spotted in Malibu Beach at Hilary Duff's Independence Day beach party. It's also been seen on the set of the new NBC series Cane and if Jimmy Smits and Rita Morena are looking especially glowing, they may be getting a little natural assistance. Sun Sauce has also been doing its thing on the set of Dancing with the Stars, transforming those fabulous dancers into agile footed bronze beauties. Dales products have also found there way to traditional Hollywood gala's via the 2008 Emmy's as part of the back stage star gifting event sponsored by Palapulie at the Sunset Marquis Hotel.
As Sun Sauce nears a close to a fantastic 2008, there products have recently been selected as a Hollywood hot product and featured on a segment of Ryan Seacrest's radio show; Manny on the street. Seacrest's radio program on KIISS 102 FM is the highest rated morning show in L.A. Manny, Seacrest's "guy on the street" who approaches beautiful people in LA to get there opinions on the latest "what's hot and what's not" items provided Sun Sauce skin care to those in the know as a reward for their participation.

The overwhelming response to Sun Sauce doesn't surprise Dale, he said "Sun Sauce is the culmination of 17 years of R&D and a lifetime of trial and error. It is by far one of the most restorative and complete natural skin care products on the market and my ingredient list is like the all-star team of natural remedies". Aside from the actual difference it makes in the quality of your skin, it has a light feel, pleasant mild fragrance, a subtle kiss of color. Best of all, Sun Sauce is extremely affordable and easy to use.
So the next time you watch your favorite personality on television or see a beautiful face on the silver screen, remember… behind every great face is a great skin care product that helps transform the ordinary into extraordinary.
Sun Sauce provides a wide variety of quality skin care products ranging from sunless tanning formulas to anti aging skin care products. Sun Sauce products are on line at www.sunsauce.com or call 800.275.2855